Four Poster Beds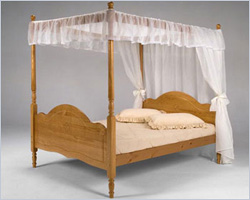 4 Poster beds, the romance, luxury and cosiness of these type of beds is why they are so popular.
Furniture247 have hand picked this small selection of pine four poster beds purely on the basis of quality, style, affordability and the genuine pursuit of sustainability.
All of the pine and wood used in the production and manufacturing of these four poster beds comes from sustainable forests.
Although we only offer a small selection of 4 poster beds, these have been carefully selected. We also offer matching lace curtains to go with these romantic beds in cream and white as well as voile in a number of colours.