Pine Beds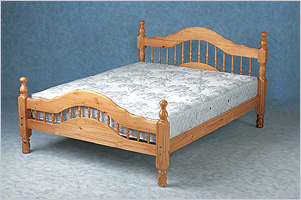 Here at Furniture247 we want you to be able to buy a Pine bed for less. We have a huge range of pine beds and wooden beds to choose from, so you can find the perfect bed.
With our amazingly cheap prices on this entire range including panel style pine beds, solid pine four poster beds, pine bunk beds and spindle pine beds.
The majority of our Pine beds are available in single, double and King size.
It is worth bearing in mind that some people call Pine beds pine bedsteads, pine bed frames, wooden beds and antique pine beds.
Pine furniture in general and pine beds in particular, have been sold in the UK for centuries. Traditionally oak was the timber of choice in Britian and it was harvested from native British woods and the much cheaper pine was imported from Scandinavia. British oak woodlands were decimated by the demands of two World Wars and faster-growing pine trees were planted in the 50s and 60s to make up the shortfall in timber stocks as quickly as possible.
Today, thanks to easier world trade conditions, timber or finished timber products can be moved more easily around the globe. This has allowed fast growing pine. To be used in the manufacture of pine beds, bunk beds and the like.
pine is an abundant species found in many parts of the globe. This means that furniture made from this material is more likely to have come from sustainable sources than furniture made from some tropical hardwoods such as mahogany.