Bedding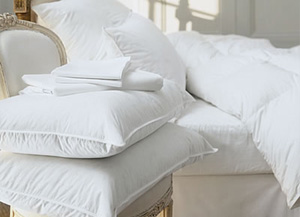 Sometimes overlooked, but never overstated, Bed Linen, duvets, pillows and bedding can be the most important aspects of your sleep. Get it right and a fabulous nights sleep is guaranteed, buy cheap sub-standard products and it can ruin your sleep.
Furniture247 recognise the importance of excellent quality bedding and we are delighted to offer a huge range of duvets, pillows, bed linen, feather beds, duvet covers and pillow cases. We also offer here a superb range of silk bed linen, including duvets, duvet covers, pillow cases and blankets all in Habotai Silk.
All of this bedding has been carefully chosen for quality and value for money.
Choosing Pillows
Many people make the mistake of investing in a quality bed and mattress then leaving the choice of pillow to chance. In fact having the right pillow(s) is an important part of a good night's sleep.
As with beds and mattresses, most people keep their pillows far too long. Most pillows should be replaced every couple of years - cheaper ones will need replacing more frequently. You know it's time to buy a new pillow if the old one no longer has any "bounce". Fold it in half then see what happens. Does it jump back into shape quickly? Or does it return to shape gradually and reluctantly - if at all?
Firm or Soft?
The wrong pillow can ruin your sleep. A pillow that is too soft or too flat can cause neck pain, one that it too stiff or too high can cause back pain.
The right pillow for you will support your neck comfortably. The firmness required will depend on both your personal physiology and on the way you sleep, some people like a soft, fluffy pillow whilst others prefer one that is rock hard. It's rare that two partners will find exactly the same pillow combinations ideal.
If you sleep on your stomach then soft pillows are probably best for you. People who sleep on their backs will require something a little firmer. Side sleepers probably require the most support and hence even firmer, higher pillows.
There are a wide variety of pillow fillings on the market, Furniture247 offer in the Das Kissen and Down Home sections Goose Down and Goose Feather as well as Duck Down and Duck Feather. Whether you prefer the old-fashioned luxury of soft down or the slightly cheaper feather and down, it's important to buy quality and that's all that we sell.
Many of the cheapest pillows either offer no support at all or else are too rigid and lack comfort. A good pillow should conform to your natural contours and provide support for your head.
Don't forget about the humble duvet cover and pillow case - it's the visible manifestation of your duvets and pillows. Whether you buy something decorative or plain, choose something that fits in with the overall design, theme and colour scheme of your bedroom. We have selected a lovely range to choose from here, something for every taste.
The whole area of duvets and quilts is a confusing one, especially when regional differences are taken into account. For instance, what is known as a quilt or a comforter in the US would probably be called a duvet here in the UK. And what we would call a duvet cover in the UK might simply be called a "duvet" in the US! When buying a quilt, comformer or duvet - either in a shop or online - make sure that you know exactly what you are getting.
In essence a duvet is simply two pieces of cloth sewn together and filled with some soft, comfortable insulating material (called batting or wadding). This filling was traditionally made from natural materials such as duck down (hence the name eiderdown, an eider being a type of duck). Nowadays an increasing number of quilts are being filled with artificial materials. Quilts are an alternative to the more traditional sheet and blanket. They have the advantage that they are simpler and considerably speed up the process of making the bed in the morning. They are also frequently used as a decorative touch.
Togs
In the UK duvets are often given a tog rating. This is simply a human-friendly measurement of the insulating capability of the duvet - technically speaking it's a measure of thermal resistance. A higher tog rating means a warmer duvet. A higher tog rating does not necessarily mean a heavier duvet since different fillings will weigh different amounts for the same level of insulation. The tog rating is only one factor to consider when comparing duvets.