Fabric Beds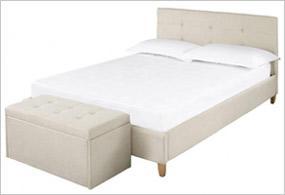 Fabric beds offer outstanding value and look high class in any home.
To cater for this new demand, Furniture247 have selected a lovely range of Fabric beds, some with low foot end and some with high foot ends.
We also offer matching Ottomans for all of your bedroom storage needs.
We offer 3 foot singles, 4 foot 6 doubles and optional Ottomans.
Fabric beds have intricate stitched detailing and look luxurious, whilst remaining affordable. A real touch of class for your home.
Superb selection of Fabric beds, bedsteads, 4 foot 6 double, king size, bedsteads, all available. Next Day delivery - Free Delivery