Traditional Mattresses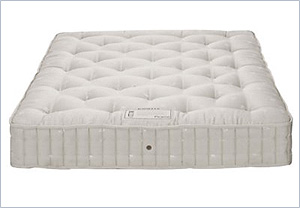 We are delighted to offer 4 different types of mattresses. Traditional Sprung Mattresses which are all use industry standard Bonnell spring units are the mattresses most people would be familiar with. These comes in all sizes, small single, single, small double, double, king size and super king size.
Foam Mattresses are available in single, double and king size and are made from a very high density foam which renders these mattresses as orthopaedic due to the high level of support that they offer.
Memory Foam Mattresses are available in 3 qualities, premium 2000, 3000 and 4000, all offering superb levels of comfort and many other health benefits.
Waterproof Mattresses are a fantastic addition to our range, you can choose between a Quilted Sprung Mattress and Foam Orthopaedic Matress and between light and heavy incontinence these are breathable, silent and comfortable.
Which mattress is the best?
It is a marketing myth that there is a "one size fits all" mattress. The "best" mattress is one that keeps you comfortable and well supported. At Furniture247, we hired experts who've done all the research to find the right mattress for our customers.
We have cut open our competitors' models and have adjusted our product line so that we only carry the best mattresses in the industry. We have weeded out the models that do not give the customer a true value. When you order online at Furniture247, you can feel confident that every one of our mattresses will satisfy you at any price point.
If you need more help making your selection, our expert Bedding Consultants are available to answer any questions you may have and, more importantly, help you get a better understanding of how to choose the model best for you. CALL 0845 10 80 183 today to find out which is your "best" mattress!
How much money should you spend on a mattress?
A good-quality mattress is an investment that gives you the most return. When you are rested, your mind functions better, your memory is sharper, and you can be sure you won't fall asleep on the job, or while driving.
The daily amount you spend on your cup of coffee (or £2.50 at Starbucks), you can get a quality mattress that will last you for years to come, and provide you with the sleep you need to be at your best. So there is no "price limit" on buying a mattress, the way there would be for, say, a car or a stereo.
How long do mattresses last and how often should they be replaced?
One conventional rule says to purchase a new mattress every ten to fifteen years. But depending on where you use it and how much punishment it takes (kids can wear out even the firmest mattress), or even the climate that you live in, you may need to replace the mattress within, say, five years. Or it may last you twenty years.
Ultimately, if you wake up feeling stiff and sore, you should think about replacing your mattress. Your lifestyle and your body may undergo rapid changes, so that your mattress has to change too. As a rule, if your mattress sags, tears or looks generally shabby, you should replace it. You should also keep these questions in mind:
Are you more tired than you were a year ago?
Does your body ache when you wake up?
Would a new mattress help you sleep better?