Down Home Duvets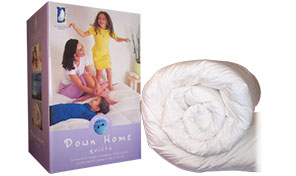 White Goose Feather & Down - 85% Feather 15% Down
A fine blend of Chinese feather and down, the best selling and well known of our volume products. White goose feather tends to be shorter in length than duck feather which in turn makes the duvet softer and lighter. As the name suggests, white goose feather and down, the filled duvet is lighter in shade than the duck feather and down and more pleasing to the eye.
White goose down - 80% Down 20% Fine Feather
The best seller in our mid market range, Chinese white goose down produces a duvet which is not just warm but light due to the quality of the down clusters. White goose down is an ideal filling for duvets as the down not only insulates body heat to give the warmth required, but also allows excess body heat and moisture to escape, allowing a comfortable night's sleep.