Down Home White Goose Feather & Down - All Season (4.5 and 9 Tog)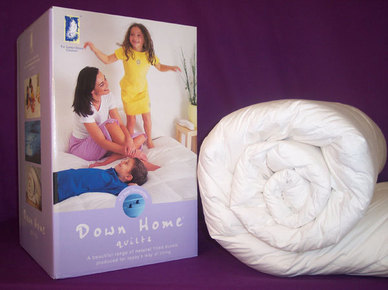 Down Home White Goose Feather & Down - All Season (4.5 and 9 Tog)
This item is temporarily out of stock

Please contact us if you would like more information.
Product Information
White goose feather & down
A fine blend of Chinese feather and down, the best selling and well known of our volume products.
White goose feather tends to be shorter in length then duck feather which in turn makes the duvet softer and lighter. As the name suggests, white goose feather and down, the filled duvet is lighter in shade than the duck feather and down and more pleasing to the eye.
The difference is all in the feather and down.


4.5 Tog for Summer, 9 Tog For Spring and Autumn, Button together for Winter
Heat regulating
Hygroscopic
Insulating
Impermeable
Flame retardant
Anti static
Non allergenic
Naturally manufactured
Washed with natural soap
Tumble dried at 120 c
Cassette construction
Cotton cambric
230-375 Thread count
Combed cotton
No harmful chemicals
Human friendly
Dust mite free
Unpenetratable fabric