Die Zudecke Duvets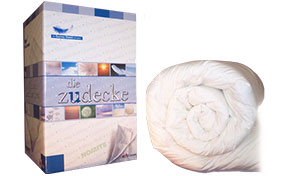 Die Zudecke is the epitome of sheer indulgence. A range which uses only the finest down and feathers from the best producers in the world and then is stitched to the highest standards in Germany, where quality really matters.
This range really is at the top end of the market and this is reflected in its high specification and minute attention to detail.
All products within this range are made using goose down which provides the most luxurious warmth along with an exquisite softness that is light and airy, a winning combination for a perfect night's sleep.
These products are not mass produced but sensitively and ecologically manufactured in Germany under strict and constant quality control.
Hungarian White Goose Down
Polish White Goose Down
Canadian Snow Goose Down
Absolute luxury
Sleep investment
Sheer indulgence
An investment in sleep can prove to be a life changing event.
If you are looking for a duvet of the highest spec with the finest materials in the world then look no further than die zudecke.
We pride ourselves in our first class range which combines years of research and experience with manufacturing of the highest standard. Down is collected from Canada, Poland and Hungary, all countries renowned for producing the world's finest down.
The manufacturing takes place on our site in Germany where no expense is spared in producing duvets and pillows of the highest quality.