Pocket Sprung Divan Beds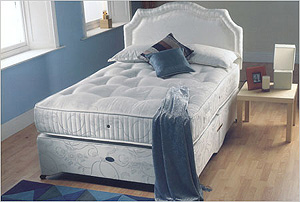 Once you've slept on a pocket sprung bed you'll find it hard to get used to anything less. Pocket sprung beds are individual pockets inside the mattress that are each filled with it's own coil spring. The effect this has is that there is pressure only on the part of the mattress that you are in contact with. Therefore these is no "roll-together" so common in many traditional mattresses.
Pocket Springing has never been a cheap method of manufacturing, it is however the best and at Furniture247 we always guarantee high quality at the lowest prices.
Please choose from the range below and discover true luxury comfort
What is a Pocket Sprung Bed System?
A pocket sprung system is created by turning high tensile steel into individual springs which are then wrapped into their own pockets.
The springs are either placed in the mattress by a machine in rows, or on more expensive models they are put in place by hand and secured by a stitch which is also done by hand, this is called `hand nesting' and is a very labour intensive process.