Orthopaedic Range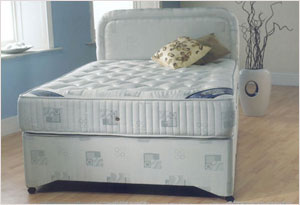 Orthopaedic beds are ever popular, there is no official definition of Orthopaedic beds, however it does usually mean firm support, and at Furniture247 these beds are indeed in the firm range of beds.
All of our beds use a double layer of the industry leading Bonnell Spring Units which give these beds such firm support.
We offer three types of orthopaedic bed here all giving excellent value for money as well as superb support to give you the right amount of firmness.
Should I buy a hard bed to ease my aches and pains?
What you need is a new bed which offers the right support for your spine (not necessarily hard at all!) Remember that the term orthopaedic and other derivations of the word only mean that the bed is a firmer specification. As mentioned above, there are no universal standards of firmness in common usage in the UK. BUT if you have a back or skeletal problem you should consult your GP or Specialist before buying. Sometimes a firmer mattress is what you require and can help with back problems especially if you wake up with a stiff or sore back.