Memory Foam Beds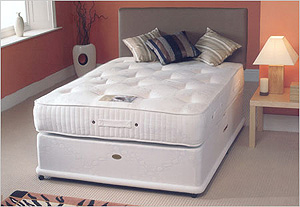 Furniture247 are delighted to be able to offer these two memory foam beds.
Memory foam mattresses and Memory foam beds. Explained in important detail. Memory foam Visco elastic is the technical term for Memory foam. This type of foam was used in the USA by the Nassa space program many years ago to help astronaughts with g-force on take off.
Memory foam had been developed and was not released into the open market but did find its way into Hospitals to treat patients suffering from bed pressure sores.
Memory foam distributes bodyweight more evenly than any traditional mattress, thus reducing pressure build-up, which can lead to neck, back and joint discomfort developing during sleep.
The manufacturers making memory foam for the hospitals are called foam converters. Once they had released how good this new material was (Visco-elastic) these manufacturers started to introduce their products into the mainstream domestic bed and mattress market.
Slowly people looking for beds and mattresses started to see the extra benefits from sleeping on Memory foam. Some of these benefits are. Hypo allergenic, anti microbial, anti bacterial, pressure relief, temperature sensitive, silent in use, conforms to the exact shape of the sleeper's body.