Luxury Divan Bed Sets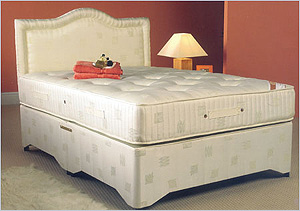 Furniture247 are proud to present our luxury divan bed set range.
The divan bed style of beds has changed in many ways over the last few years with the introduction of new types of materials, spring and foams. One think that remains the same however, is that people want a touch of luxury when they sleep.
To this end we offer here a carefully selected range of luxury divans, typically less firm that orthopaedic beds, but still offering the support that the back requires when sleeping.
Each bed in this range offers the full range of sizes and storage options plus a matching headboard.
What is a luxury Bed?
Whilst there is no legal or UK standard definition of a luxury bed, it has come to mean soft or less firm that what one would expect to find in an Orthopaedic bed.
Furniture247 prides itself in offering a large range of all of our bed types, none more so that the luxury range. Increasingly our customers tell us they prefer a luxury sleeping experience, more "hotel" like than anything else, tot his end, we offer a lovely range of beds that usually you would only find in luxury 5 star hotels.