Avola Premium Plus Range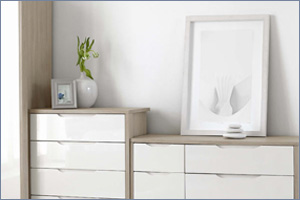 Welcome to the future of furniture design and innovation
The Avola Premium Plus range offers a customised choice of cabinet finishes, or textured carcasses, as they are better known as, to contrast and complement your preferred style of door and drawer colours. There are up to nine different colour combinations to choose from to suit every taste and decor within your home, so let your imagination loose and customise your furniture to your heart's content.
Which combination will you choose?
Top Tip: If you would like a Avola finish on your door and drawer fronts, please visit the Avola Premium Range which has many of the same great features as the Plus range, including 25mm thick wardrobe, chest and table cabinets and metal draw runners throughout.