Worthing Oak Kingsize Bed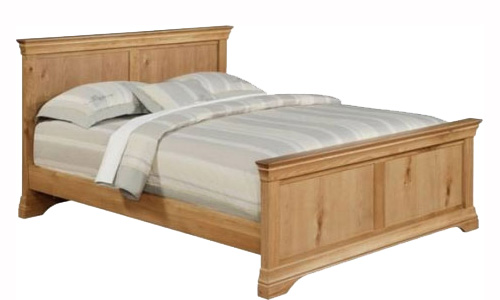 x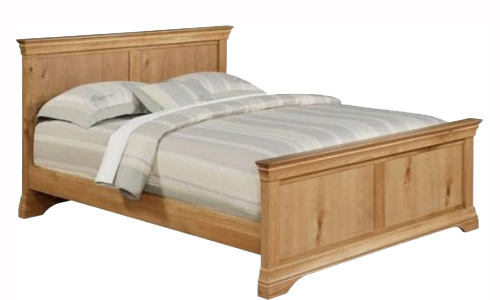 Worthing Oak Kingsize Bed
This item is temporarily out of stock

Please contact us if you would like more information.
Worthing Oak Kingsize Bed
Introducing the new worthing oak frame double bed. Where great looks are important, you will love the new range of quality Worthing bedroom furniture.
To help reduce the cost of solid oak, this range is skillfully constructed from solid American white oak which are combined with real oak veneers for a high quality look and feel at an unbeatable price.
Twice the style at half the price.
The Worthing bed features a high foot end with matching head board and strudy wooden feet to support your choice of mattress (sold separtely).
Why not complement the Worthing Bed with a selection of matching pieces from the Worthing range. We recommend the two drawer bedside cabinet and ottoman to really complete the look.
Worthing Bed Features:
Solid construction
Strudy wooden feet
High foot end and headboard
Oak Veneer for a high look and feel
Double Bed (assembled):
(L) 204.5 x (W) 156 x (H) 105 cm
(L) 80.5 x (W) 61.4 x (H) 41.3 inches
Kingsize Bed (assembled):
(L) 214.5 x (W) 168.5 x (H) 105 cm
(L) 84.4 x (W) 66.3 x (H) 41.3 inches
Please Note: This item requires some assembly.
Furniture247 Delivery Information
The overwhelming majority of our products are delivered on a next working day basis. We can offer this service because we use national couriers who offer this service to us. In a tiny percentage of cases there are delays in delivery due to unforeseen circumstances at the couriers depots or hubs. Furniture247 cannot be held responsible for any delivery delays when items are dispatched using national couriers.
We are committed to delivering your furniture as quickly and efficiently as possible.
All items go out with our own drivers, overnight courier or pallet service due to the fact that the products we sell are in stock in our warehouse.
If you require delivery more quickly, it is advisable to call our sales hotline on 020 8952 0347 and one of our team can try and organise a delivery for you that will fit in with your requirements.
We always try wherever possible to fulfil your requests and to that end will explore all means available to us to deliver your furniture when you need it.
Free Delivery
Every order you place with will be delivered direct to your door, so speed and security are guaranteed.
UK delivery is FREE, no matter how small or large your order.
This excludes offshore Islands (including Guernsey and Jersey ,the Isle of Man, the Isle of Wight), the Scottish Western Isles, Scottish Highlands and certain other areas of Scotland which may incur a surcharge depending on the exact area and the item(s). Please contact a customer services representative for details. All areas of The Republic of Ireland and Northern Ireland will also incur a surcharge.
A stock check is run daily against all the products within the Furniture247 depots to determine the availability of each particular item. If the product or a specific option is sold out the 'order' button will state 'Sorry out of Stock'.
Most of our beds, larger bedroom furniture items, dining sets and sofas are delivered by our own drivers. The customer will be contacted prior to delivery to arrange a convenient time.
All other items are delivered by a national courier. The courier will leave a card if the customer is not home, with a contact number of the nearest depot to arrange a more convenient time to deliver.
We reserve the right to charge a administration fee of up to 25% on all orders that are cancelled prior to delivery.
On the rare occasion where an item is damaged in transit we will of course offer to replace this item immediately. Please ensure that you inspect the parcels carefully for transit damage before signing. This is absolutely crucial as we are unable to replace any damaged goods which have not been signed for as such.
There is a section on the order form for special delivery instructions, please feel free to use this section to let us know if you have special requirements.
Signing For your Delivery
All deliveries must to be signed for on receipt. Before signing for delivery, please inspect the goods to ensure the packaging and the product are in perfect condition and your furniture has not been damaged in any way during the delivery process. If necessary, please make sure you detail any problems on the delivery note. Please be aware that writing "Goods Not Checked" is not sufficient for us to be able to make a claim for damages from our courier company. When your goods are delivered please retain the original packaging until you are sure that you do not need to return the goods for any reason.