Verona High Sleeper Bunk Bed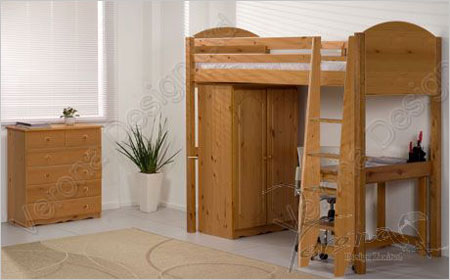 x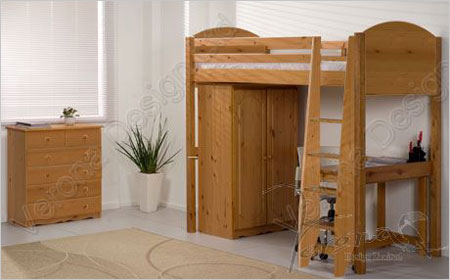 Verona High Sleeper Bunk Bed
If you order now, we will contact you to arrange delivery:
Monday 19 March between
09:00 - 13:00
Product Information
Versona Pine Bunk Bed
The Verona High Sleeper bunk bed is a solid pine wood bunk bed that is perfect for saving space and makes a fantastic children's bed. With its sturdy wooden frame, this bedstead is built not only to last but also to provide an extremely high quality of support and comfort. This bed frame comes with a mattress which is included in the price and you have a choice of which mattress you would like.
This Verona High Sleeper bunk bed has a strong safety rail around the top bunk for your child's safety and chunky matching head and footboards. This chunky theme is carried through to the ladder too, which has a fairly modern feel to it. This bed looks incredible in any style of home, whether contemporary or traditional.
This Verona High Sleep bed frame is available in a variety of colours and matching furniture can also be purchased. This bedstead has been finished in a stunning Antique Pine Gloss and comes with the option of the following colours:
Available Colours:
Antique Pine
Blue
Pink
White
Dimensions:
Height: 189cm
Depth: 118cm
Width: 203cm
Mattress Options:
Sfonia Mattess
Light Quilted Mattress
Breathable Waterproof Mattress
Select your choice of mattress from the drop down menu below.
This Verona High Sleeper bunk bed comes flat packed for easy home assembly.