Silk Duvet - 9 Tog Spring/Autumn Weight Duvet
x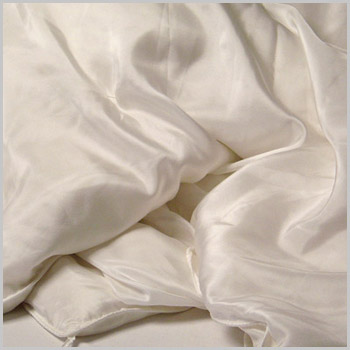 Silk Duvet - 9 Tog Spring/Autumn Weight Duvet
If you order this product before
12pm today
you will receive
delivery tomorrow
.
Product Information
Silk Duvet - 9 Tog Spring/Autumn Weight Duvet
Silk is naturally hypoallergenic dust mites don't like it. Silk's "breath-ability" makes it warm in winter, cool in summer.
The Chinese and Japanese have enjoyed Silk bedding for many generations.
The Chinese believe that the amino acids present in silk are beneficial to the skin, whereby they activate the human skin cells to: Prevent vascular sclerosis, Relieve itchy skin, Assist in preventing arthritis & asthma.
These silk duvets are unique in the European Union being 100% silk (both filling & case). The filling is 100% Long Silk. This makes them the highest quality available in the market.
Cool in Summer; Warm in Winter.
Naturally Hypoallergenic.
Organic Fibre.
Soft.
Lightweight.
Drapes naturally over the body.
Integral Laces every 70cm allowing lacing together of 4.5 Tog and 9 Tog to make winter weight 13.5 Tog duvet
Available in 4 sizes, Single: 135 X 200 cm, Double: 200 X 200 cm, King: 225 X 220 cm, Super King 260 X 220 cm
Content: 100% Silk Floss and Habotai Silk Shell.