Mexican Round Drop Leaf Dining Set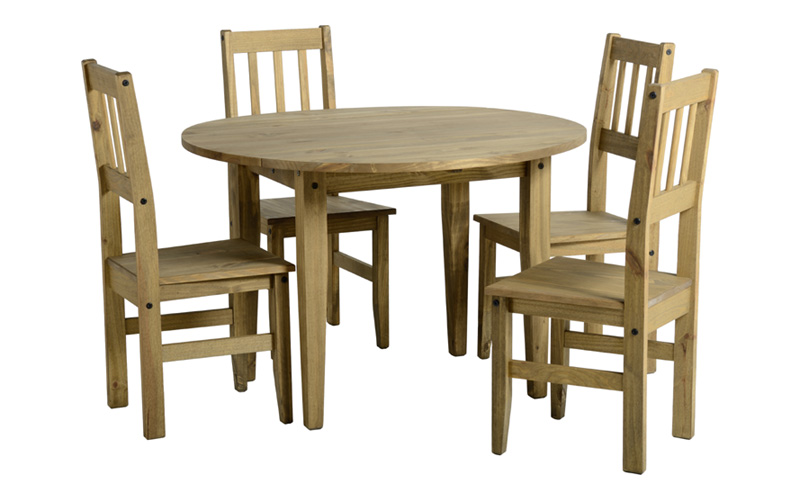 x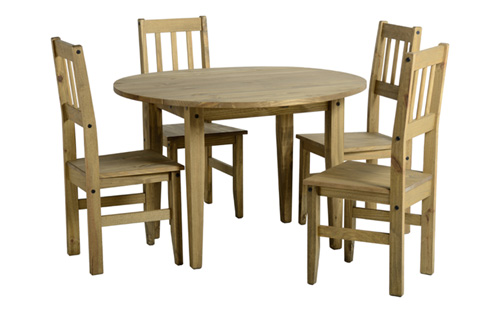 Mexican Round Drop Leaf Dining Set
This item is temporarily out of stock

Please contact us if you would like more information.
Product Information
Mexican Round Drop Leaf Dining Set
This rustic Mexican Dining Set is a beautifully crafted and extremely well made set that looks truly dazzling in any style of dining room or kitchen. This Mexican Round Dining Set is very affordable. This gorgeous pine wood table and chairs set is strong, sturdy and long lasting making it the perfect buy.
The Mexican Round Drop Leaf Dining Set is very compact and includes four stunning pine wood chairs. Completed in a waxed pine finish the true wonder of this dining set is the incredible way in which the natural patterns and knots of the wood have been used to create a charming apperance. This dining set looks phenomenal in both a modern and a traditional style of home.
The Mexican Round Table has two drop leaf sides, making it the ideal choice to save space in the living room. The table can be stored against a wall and brought out at meal times as and when you need the extra dining area. The chairs tuck neatly away underneath for easy storage.
Finish:Waxed Pine
Table Closed Dimensions:
Width: 115cm / 45 inches
Depth: 68.5cm / 26.9 inches
Table Extended Dimensions:
Diameter: 115cm / 45 inches
Please note: This set requires some minimal home assembly.