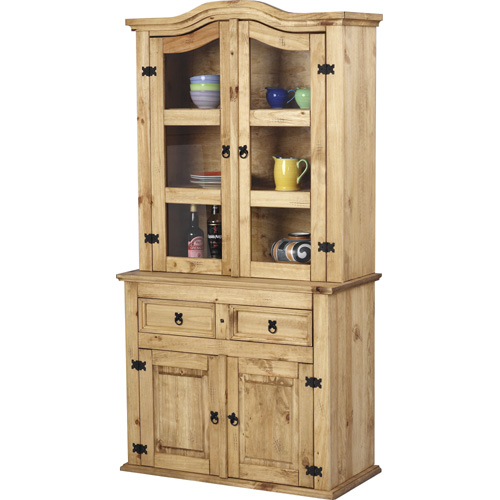 x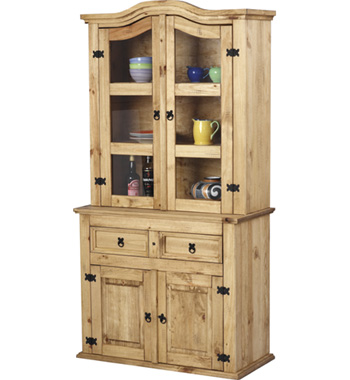 If you order this product before 12pm on
Monday 23 April
you will receive delivery on
Tuesday 24 April
Product Information
Corona Buffet Hutch
The Corona Buffet Hutch features lots of storage space in the base section and attractive glass doors on top.
A perfect accessory to all of our distressed waxed pine items in the Corona range.
There are two sizes of buffet hutch to choose from to suit your kitchen and living room requirements.
The small buffet hutch has two cupboards and two drawers, whilst the large version has three of each.
Finish: Distressed Waxed Pine.
Small Buffet Hatch Dimensions:
Top (W) 98.5cm / 38.7 inches x (D) 36.5cm / 14.3 inches x (H) 111.5 cm / 44.8 inches
Base (W) 100cm / 39.3 inches x (D) 48.5cm / 19 inches x (H) 81.5cm / 32 inches
Overall (W) 100cm / 39.3 inches x (D) 48.5cm / 19 inches x (H) 193cm / 75.9 inches
Large Buffet Hatch Dimensions:
Top (W) 142cm / 55 inches x (D) 36.5 / 14.3 inches x (H) 111.5 cm / 44.8 inches
Base (W) 144cm / 56.7 inches x (D) 48.5cm / 19 inches x (H) 81.5cm / 32 inches
Overall (W) 144cm / 56.7 inches x (D) 48.5cm / 19 inches x (H) 193cm / 75.9 inches