Faux Leather Seating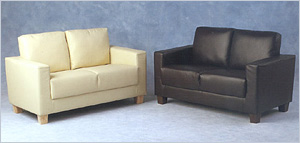 Faux Leather seater, or "Leather Look" seating is all the rage currently.
Hard wearing, very easy on the wallet and well designed, these faux leather seating choices appeal to everyone.
We have armchairs, 2 seater sofas, 3 seater sofas, swivel recliners and tub chairs to select from.
Our Sofa-in-a-box selection is particularly good value for money and is available on an overnight delivery.
Faux leather or Leatherette Sofas are the perfect way of furnishing a lounge or sitting room in a cost effective way.
These lovely chairs, recliners and sofas are compact, affordable, strong and well designed and will compliment the furnishings of any modern home.