Fabric Sofas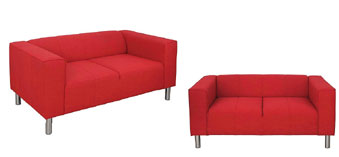 Here at furniture247 we have carefully selected a special section of fabric sofas. All of the products you find here are inspired by some of the great furniture designers of the past and present day.
Modern day fabrics are advanced and offer the end user the very best in comfort at a price you can afford.
Please select from the products below to be inspired and amazed by the quality and range we offer.
From modern chic to vintage inspired, find a fabulous fabric sofa from our latest sofa ranges at Furniture247. Looking for a neutral fabric sofa? With so many shades and textures to choose from, put your own stamp on your living room. Or perhaps make the Sofa the statement of the room - with bold prints, florals and stripes which look stylish in light coloured living areas. With a brilliant delivery service once you've picked your favourite, find your perfect fabric sofa today.