Sofas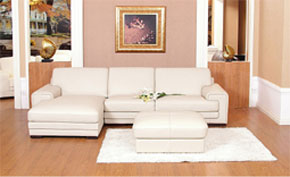 Think about it... We spend on average one third of our time at home on the sofa, and who wouldn't want to? So the sofa you buy should be comfortable, strong, well made, nice looking and great value for money.
Our lovley range of leather sofas, leather suites, Fabric Sofas, Armchairs and Corner Suites are of the highest quality and come with our special 2 year no-quibble gaurantee for your complete satisfaction.
Everything we sell in our Sofa collection has been specially selected for quality and style.
When choosing a sofa you should consider the size and shape of your room. You will of course wish to match your sofa to the style of all your other furniture. Will you need a contemporary sofa, a more traditional sofa, or something in between?
The sofas we stock at Furniture 24/7 are made in italy from the finest materials, hand made by some of italy's best craftsmen. They're all designed to fit the modest of homes and should last you a very comfortable 10 years or more.
All of our sofas come with a 2 year warranty which covers the leather, stitching, frame and foam and any (very unlikely) manufacturing faults.
We hope that you will enjoy shopping for your sofa with us, and that you will not hesitate to call us should you need assistance in purchasing your sofa.