Tortilla 4 foot 6 or 6 foot Dining Set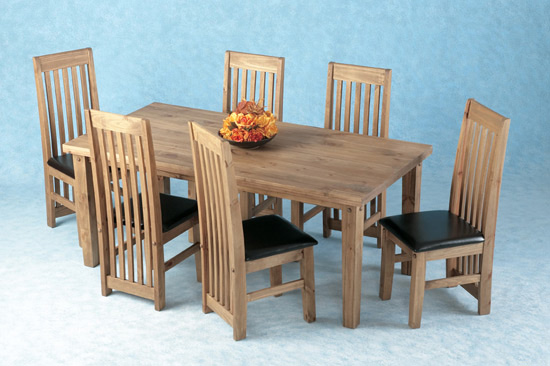 x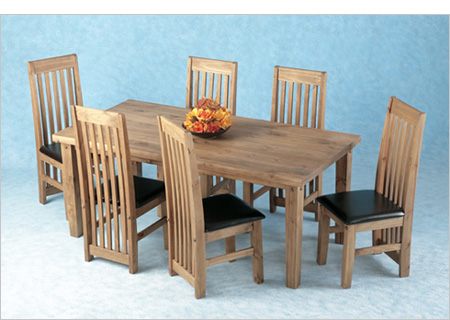 Tortilla 4 foot 6 or 6 foot Dining Set
This item is temporarily out of stock

Please contact us if you would like more information.
Product Information
Tortilla Dining Set
A Mexican style inspired dining set in a waxed pine finish creates a lovely smooth finish and appeal to the dining set. The table features thick strong legs to hold up the rectangular table top. The set is solidly constructed from pine wood giving a strong frame, finished with waxed pine giving a solid smooth pine wood table feel.
Contrasting espresso brown faux leather chairs complete the dining set. The chairs Feature long backs adding a more premium look and feel to the dining set the sturdy shape adds strength and durability. They also feature bycast upholstered seats with padding for comfort during all meals. The warm rustic charm of the dining set will make it a beautiful addition to your home.
Available Dining Table Options:
This delightful and charismatic Tortilla dining set is available in two sizes, to suit your living room or kitchen. Simply choose between the 4 Foot 6 Dining Table with four chairs, or the larger 6 foot table with six chairs. The dining tables are also both available on their own if you already own chairs which will match, or would prefer to choose an alternative style.
The distressed wax pine dining chairs are available with your choice of faux leather seating, which are Cream or Expresso Brown.
Dining Table Finish:
Waxed Pine
Four or Six Long Back Chairs with Bycast Upholstered Seat Pads
4 Foot 6 Dining Table Dimensions:
(W) 152 x (D) 91 x (H) 77.5 cm
(W) 59.8 x (D) 35.8 x (H) 30.5 inches
6 Foot Dining Table Dimensions:
(W) 182 x (D) 91 x (H) 77.5 cm
(W) 71.6 x (W) 35.8 x (H) 30.5 inches
Tortilla Dining Chair Dimensions:
(W) 44 x (D) 48 x (H) 107 cm
(W) 17.3 x (W) 18.8 x (H) 42.1 inches
Available Dining Chair Colours:
Cream Faux Leather Chairs
Expresso Brown Faux Leather Chairs
Please note: The table requires a small amount of assembly.