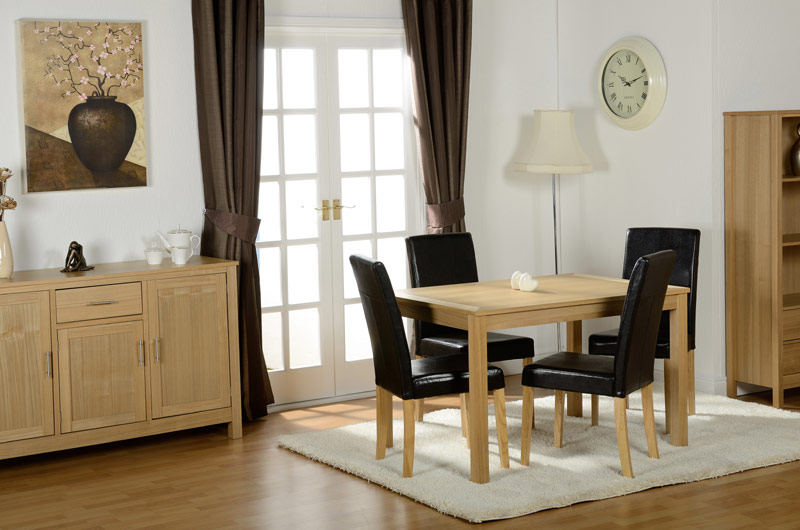 x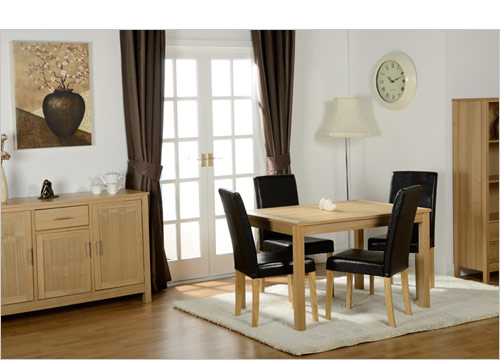 This item is temporarily out of stock

Please contact us if you would like more information.
Product Information
Oakmere Dining Set
If you are small on space but big on style the Oakmere Dining Set is just what you need. With a sleek compact design and timeless charm it's perfect for a smaller space. The Oakmere features a charming oak table which is durable and strong making it capable to with stand every day use. Finished in a layer of real oak veneer the tables boasts a smart smooth surface perfect any home.
The Oakmere dining set combines a real oak veneer table with four contemporary style chairs upholstered in faux leather. The set of faux leather chairs adds a special touch to your mealtimes. Available in various colours allowing you to customise the dining set to you preferred taste. The chair legs follow the same oak veneer legs as the table giving a completed look to the set.
Please note: this set requires some assembly.
The Oakmere Dining Set is also available as a stand alone dining set without any dining chairs.
Finish: Real Oak Veneer
Dimensions: W117cm x D81cm
Bycast leather or fabric sand coloured chairs
Depth of seat pad (front to back) 16.5 inches /42 cm
Depth to back of chair 18.5 inches / 47 cm
Height from floor to top of the back of the chair 35 inches/89cm
Width 16 inches/41cm
Available Chair Colours:
Black Faux Leather
Cream Faux Leather
Charcoal Faux Leather
Expresso Brown Faux Leather
Mid Brown Faux Leather
Sand Fabric
Rustic Red Faux Leather
Please note: This set is intended for domestic use only