x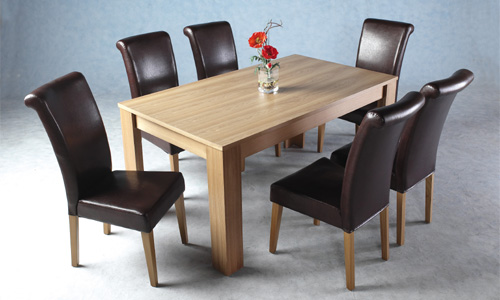 This item is temporarily out of stock

Please contact us if you would like more information.
Product Information
Dunoon Dining Set
This best selling dining set cleverly combines the warmth of rustic charm with modern sophistication comprising a generous rectangular table offset with six espresso brown faux leather chairs. The thick light oak finished table tops rests on 4 thick square legs providing strength and durability to the table. Luxurious smooth finish adds a sense of style and class to the Dunoon Dining Set.
The Dunoon Dining Set is accompanied by 6 strong based espresso brown faux leather dining chairs. Which stand out against the light oak finish of the dining table. PU leather chairs with a scrolled back add a level of sophistication at a a much more affordable price this makes the set a best by for quality and for value.
Finish: Light Oak / Espresso Brown
Dimensions:
63 x 35 1/2 inches
160 x 90 cm