Cambridge Oak Finish Dining Set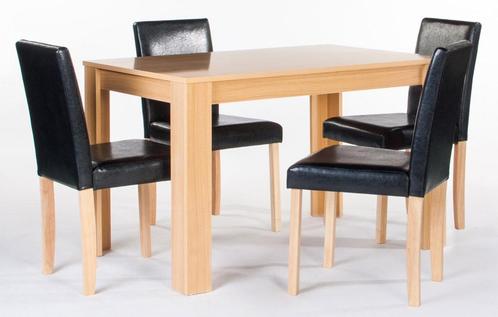 Cambridge Oak Finish Dining Set
If you order now, we will contact you to arrange delivery:
Monday 22 July between
09:00 - 13:00
Product Information
Cambridge Dining Set
This extra chunky dining table not only looks fantastic but is also extremely durable and robust.
The Oak finish design is in keeping with traditional living spaces and kitchens. The four matching faux leather chairs complement the look beautifuly.
With it's solid and rigid construction, the Cambridge is suitable for both domestic and commercial use, making it an affordable choice for home or within your resteraunt or cafe.
Featuring a new patented stabilyne construction, this table is built for extra strength and stability. An excellent and sensible choice.
This superb dining table comes complete with four matching black faux leather chairs, which are not only durable but extremely comfortable too.
Dining Table Features:
Chunky legs
Solid construction
Robust and Durable Design
Suitable for domesitc or commerical use
Dining Table Dimensions:
(L) 117 x (D) 76.5 x (H) 74 cm
(L) 46 x (W) 30.1 x (H) 29.1 inches
Dining Chair Dimensions:
(L) 44 x (D) 54 x (H) 86 cm
(L) 17.3 x (D) 21.2 x (H) 33.8 cm
Please note: The table requires a small amount of assembly.