Italian Round Dining Sets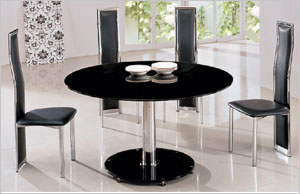 Italian Round Dining Sets are a new addition to our huge range of table and chairs sets.
In this section you will find a lovely selection of classic Italian designed and inspired dining sets. All of the Dining Sets featured here use a beautiful range of materials, toughened and tempered glass, chrome and faux leather upholstery to create the perfect look and feel for any dining room or eating area.
Italian Design has always been at the forefront of modern home furnishing and this selection is a tribute to that, the latest up to the minute cutting edge design at a price you can't beat.
There is something about Italian Furniture that catches the eye and elevates simple items such as a Dining Set to new heights, that makes it a statement, a talking point, the focus of a Dining Room.
In Italian the word for panache is pennacchio and it is this flair for all the aesthetic elements of our homes that we crave, no-one delivers this more than the Italians.
This wonderful collection of Round Italian Dining Sets has all of these elements and coupled with the fantastic value for money, you know you will be delighted with any of these lovely Tables and Chairs in your home.