Italian Rectangular Dining Sets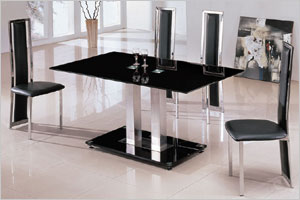 Dining sets designed and styled in Italy are the new buzzword in the home furniture market. Beautifully crafted and styled, this magnificent collection of table and chair sets are the new addition to our huge range of eating area solutions.
In this section you will find a lovely choice of classic Italian designed and inspired dining sets.
All of the Rectangular Glass Dining Sets featured here use a beautiful range of materials, tempered and toughened glass, chrome and lovely faux leather upholstery to create the perfect look and feel to any dining room or eating area.
This collection displays perfectly the sheer simplicity of Italian design, where compliments are open to contrasts, quality meets practicality and striking designs become features of a contemporary home.
This lovely collection of Italian Glass Dining Sets are a perfect balance of tempered toughened glass, polished chrome and bold use of colour and materials.