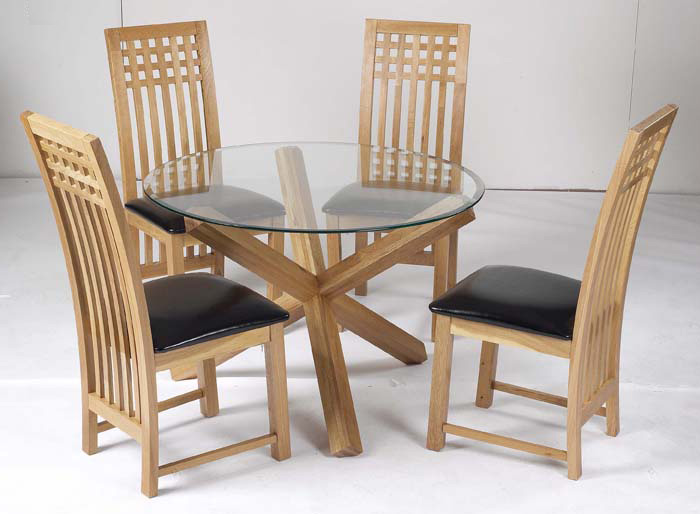 x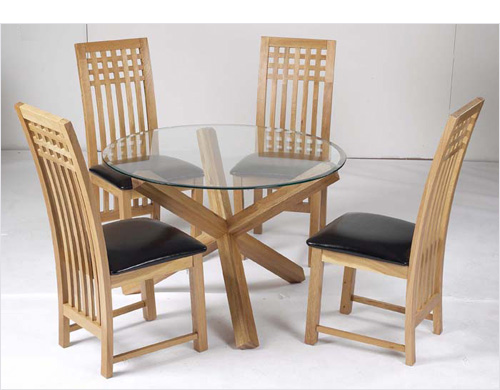 This item is temporarily out of stock

Please contact us if you would like more information.
Product Information
Oporto Glass Dining Set
The Oporto round glass table is available as a stand alone dining table or as part of a complete set with choice of chairs. The set has a host of stunning features making it prize of the pick. The table boast a unique modern and contemporary design combining solid wood with a glass table top. Solid oak legs support the glass table top, the chunky legs have been criss crossed to create a fantastic eye catching appeal. The 3 chunky legs also have suction padded to secure the table keeping the clear glass look with out compromising safety. The use of solid oak on the legs provides you with a strong sturdy base for the table top.
The set comes complete with 4 chairs the design of the table with its solid oak legs allows the chairs to fit perfectly with ample leg room. The chairs come in a choice of solid oak with bycast leather seats in black, or bycast leather upholstery with stitched details. This allows you to finish the dining set to your preferred taste.
Mirelle Dining Chairs:
Solid Oak with Bycast Leather in Black
(W) 45 x (D) 51 x (H) 109 cm
(W) 17.7 x (D) 20 x (H) 42.9 inches
Cordoba Dining Chairs:
Bycast Leather with stitched detail
Available in Black, Cream or Vintage Brown
(W) 46 x (D) 60 x (H) 101 cm
(W) 18.1 (D) 23.6 x (H) 39.7 inches
Table Dimensions:
Diameter: 107 cm / 42 inches
Overall Height: 74 cm / 29 inches
Please note: The table requires a small amount of assembly.