Maxi Extending Dining Set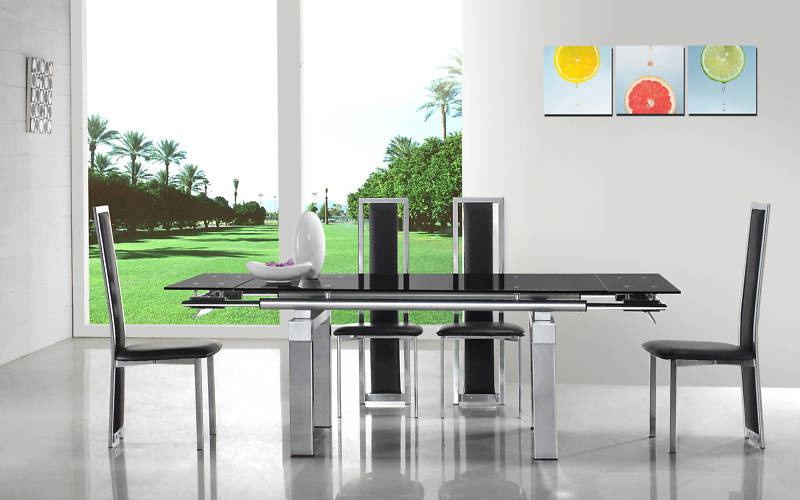 x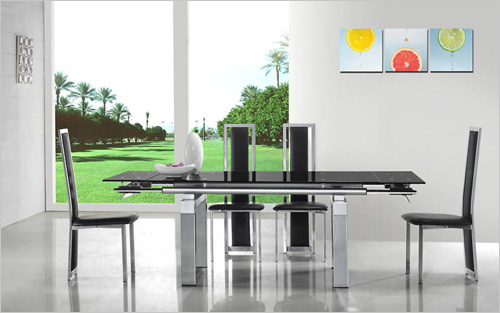 Maxi Extending Dining Set
If you order now, we will contact you to arrange delivery:
Monday 22 July between
09:00 - 13:00
Please select all available options
Product Information
Maxi Extending Dining Set
This Maxi Extending Dining Set is an ultra modern set that is sleek, stylish tasteful and is ideal for any contemporary style home. This set is the very essence of minimalistic beauty and has been fabulously made to ensure that it is strong and long lasting.
The Maxi Extending Dining Table is has been skilfully constructed of a tempered safety glass for the tabletop which gives an attractive, contemporary look. The table also has beautiful, scratch-resistant chrome legs which provide a sturdy frame, despite its elegant aesthetic. The best part about this Maxi Dining Table is that it features a fantastic and unique mechanism which allows the dining table to be opened and extended from either end, giving you quick and easy flexibly.
The Maxi Dining Set comes complete with six dining chairs and there is a huge range of chair designs to choose from. All of these dining chair options have been wonderfully upholstered in a stunning faux leather finish.
Features:
12mm Heavy Duty Tempered Glass
Extending Table Leaves 150cm - 220cm in Seconds
Strudy Chrome Table Frame and matching Chrome Frame Chairs
Table Weight: 70kgs
Available Glass Colours:
Black Glass
Frosted Glass
Choice Of Dining Chair Styles:
(G501) Framless Tall Back:Width: 45cm, Depth: 43cm, Height: 105cm
(G525) Tall Back Cut Out:Width: 45cm, Depth: 44cm, Height: 105cm
(G601) Thin Framed Tall Back:Width: 44cm, Depth: 44cm, Height: 106cm
(G612) Low Back Chairs: Width:44cm, Depth: 44cm, Height: 91cm
(G632) Z Chair: Width:45cm, Depth: 63cm, Height: 93cm
(G650) Full Framed Tall Back: Width:45cm, Depth: 45cm, Height: 110cm
Available Chair Colours:
Black
Cream
Chocolate Brown
Red
White
Table Dimensions:
Width: 150cm to 220cm
Depth: 90cm
Height: 76cm
Width: 59 Inches to 86.6 Inches
Depth: 35.4 Inches
Height: 29.9 Inches
The Maxi Extending Dining Set requires some assembly.