Coffee Tables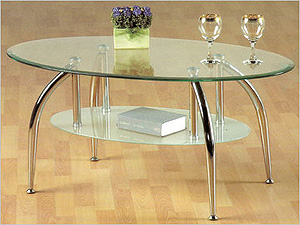 Owning the perfect coffee table is a sure way to impress family and guests. Whether as a functional place to put that well earned glass of wine, TV remote controls or magazines, Furniture247 have the perfect choice of glass coffee tables and wood coffee tables.
In each of the two sections below, you will find dozens of styles and designs to match your existing living room furniture. Within each section there are round coffee tables, rectangular coffee tables, oval coffee tables and square coffee tables.
Each section has pieces that are very functional with plenty of storage to the extremely contemporary for the modern home. There is something to suit every taste and budget here. So if you are after cheap coffee tables you are in the right place.
CHEAP COFFEE TABLES
Your living room furniture needs to include a coffee table. Here at Furniture247 we recognise how important a purchase it is for all home owners. We offer a massive selection of highly fashionable and classical coffee tables for you to choose. So take your time and choose the right items for you and your home. Our website www.furniture247.co.uk is the best place to buy these beautiful products.
CONTEMPORARY COFFEE TABLES
Designed to match your Living room furniture or Dining room furniture, our products offer you amazing functionality. If you love entertaining guests our fantastic products will be perfect. Our Coffee Tables have been manufactured using the finest chrome, metal, leather, wood, veneer and glass. Our coffee tables are built to be durable and functional.
GLASS COFFEE TABLES
Our glass table while only taking up a small amount of dining room space are very compact and unobtrusive.. All of our glass coffee tables are made from toughened tempered glass. These special tempered glass coffee tables have been designed for maximum strength and safety and being tempered removes the danger of the glass shattering into many pieces. Matching the decor of your lounge or dining room furniture, the most recent trend has been swivel glass coffee tables, which are great if you are trying to save space. We offer clear glass, frosted glass or black glass options.
ROUND GLASS COFFEE TABLES
Our round glass coffee tables and end glass tables will command attention. Our round tables are unique in their design and finish, which make an impression on your home decor. Search through our large selection of oval glass table to find one that suits your living room furniture.
WOOD COFFEE TABLE
Solid wood coffee tables come in various shapes. Our rectangular wood coffee table are one of the most popular shapes we sell. Our combination of wood and glass is uniquely designed and can match your room setting whilst maximizing space in your home.